Agilists talk about "Information Radiators." An information radiator is a place (usually a wall) where team members and guests can inform themselves about project / release /iteration details without asking anyone a question. The most common information radiator is a team Kanban board with cards or sticky notes identifying current backlog items with their status.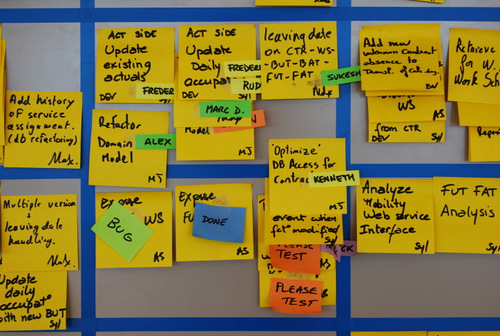 Information Radiator: GOOD!
This is not the eye candy found in most offices!
Eye Candy - Fun, but not as helpful
If you are seeing the Kramer poster (or your organization's equivalent) and no meaningful information radiators - your agile score is not very high. On the positive side, adding a meaningful information radiator for your project / release / iteration is a great step on the path to becoming agile.
It's an Information Radiator if
Regularly Updated by your Team
Team Members and Visitors Read and Understand the Information Presented
No one Worries about Fonts and Formats
Everyone Thinks about Content and Process
Where I grew up, we had iron radiators that heated the house in winter. Here's hoping that your project is heated with radiators.